Printed Silk Fabric in Stock in USA, Printed in Italy
:
[printed silk charmeuse]
,
[printed silk chiffon]
,
[printed silk crepe]
,
[printed silk various type]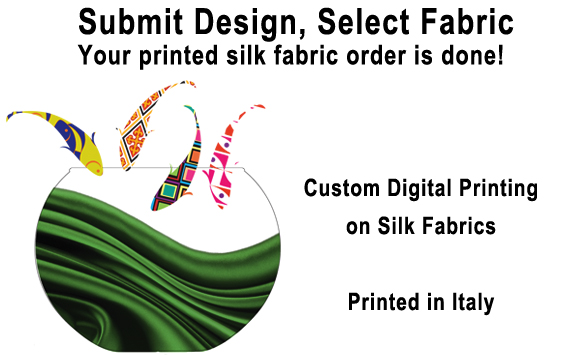 EZSilk.com provides
high-end printed silk fabric
(
printed in Italy
) to top designers in USA, Europe and Japan. With EZSilk's web based simple printing order service, digital printing works are a lot easier than any other time in textile industry.
We offer custom printing service (printing service included silk fabric) and
never charge
'custom design set up fee' which will be cost of $100 ~ 200 in the market. Our digital printing for custom design can be washed & steamed just like normal fabric.
Any question
, please
Contact us
---
* Digital Printed Silk Fabric Price, 10 yds Min Order, Printed in Italy *
| | | | | |
| --- | --- | --- | --- | --- |
| Price per yd | Width | Weight | Digital Printing on Silk Fabric | Fabric Content |
| ✂ $24.95 | 45" | 6mm | Silk Chiffon | 100% Silk |
| ✂ $27.95 | 45" | 8mm | Silk Chiffon | 100% Silk |
| ✂ $28.95 | 45" | 12mm | Silk Georgette | 100% Silk |
| ✂ $29.95 | 45" | 16mm | Silk Double Georgette | 100% Silk |
| ✂ $27.95 | 45" | 8mm | Silk Habotai | 100% Silk |
| ✂ $28.95 | 45" | 12mm | Silk Habotai | 100% Silk |
| ✂ $29.95 | 45" | 16mm | Silk Crepe de Chine (CDC) | 100% Silk |
| ✂ $29.95 | 45" | 16mm | Silk Charmeuse | 100% Silk |
| ✂ $34.95 | 45" | 19mm | Silk Charmeuse | 100% Silk |
| ✂ $29.45 | 45" | 14mm | Silk Twill | 100% Silk |
| ✂ $29.95 | 45" | 16mm | Silk Twill | 100% Silk |
| ✂ $32.95 | 45" | 17mm | Silk Dupioni | 100% Silk |
| ✂ $34.95 | 45" | 19mm | Silk Dupioni | 100% Silk |
---