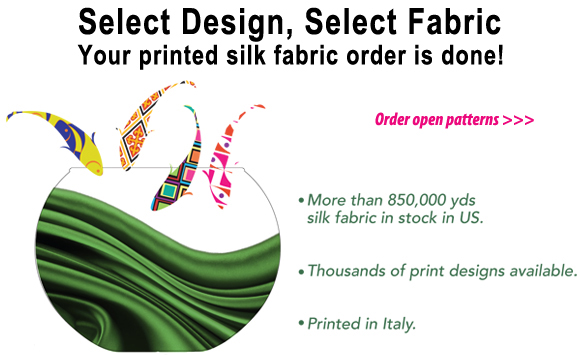 EZSilk.com provides
high-end printed silk fabric
to top designers in USA, Europe and Japan. With EZSilk's web based simple printing order service, digital printing works are a lot easier than any other time in textile industry.
« Digital printing your own design on silk fabric »
We offer custom printing service and
never charge 'custom design set up fee'
which will be cost of $100 ~ 200 in the market. Our digital printing for custom design can be washed & steamed just like normal printed fabric.
We have massive collections ready for digital printing as open lines (all originals). ➟ [
Go
]
-
EZSilk's Studio Partners


---
Silk fabric can be printed method by hand block printing, perrotine printing, engraved copperplate printing, roller printing (cylinder printing, or machine printing), stencil printing, digital textile printing, and screen printing. Conventional screen printing is widely used for long time and digital textile printing is spread rapidly now a day, with benefit of no color limitation unlike regular conventional screen print.
Printed silk fabric by digital textile printing, often referred to as direct to garment printing, DTG printing, and digital garment printing is a process of printing on textiles and garments using specialized or modified inkjet technology. Inkjet printing on fabric is also possible with an inkjet printer by using fabric sheets with a removable paper backing.
Today major inkjet technology manufacturers can offer specialized products designed for direct printing on textiles, not only for sampling but also for bulk production. Printing onto silk can be done by using an acid ink. Reactive ink is used for cellulose based fibers, such as natural yarn dyed family, cotton and linen. Using inkjet technology in digital textile printing allows for smaller sample quantity in yards, mid-run production and even long-run alternatives to screen printed fabric with no limit in number of colors on silk fabric. We use the best digital print fabric color.